Alfa Laval Centrifuge Repair
Decanter Centrifuge Service That is Quick and Dependable
Alfa Laval Decanter Centrifuges lose efficiency with time due to vibrations, wear, and clogging, resulting in decreasing output yield. You can ensure peak performance and reduce the risk of unplanned production stops by servicing them on a regular basis. Our local service locations have the skills and knowledge to help you get the most out of your decanters. We also service Alfa Laval Separator Centrifuges.
Getting a Centrifuge Inspection Is Easy
Call Centrifuge World to schedule an inspection of your centrifuge. We will dispatch one of our trucks to your location, all you have to do is load it onto the truck. Our driver will deliver your centrifuge to our shop, where we will perform a comprehensive NDTI on it.
After Inspection of your Centrifuge
Following the NDTI, you will receive a comprehensive report with recommendations for the services required and parts needed to proceed with the repairs.
If you agree, we will execute the repairs and return your centrifuge in Top Condition, operating at Peak Performance.
Alfa Laval Separator Centrifuge Service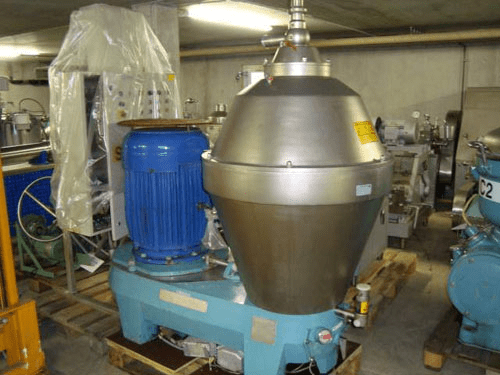 Improving the efficiency of your Alfa Laval machinery
Alfa Laval Continuous, high-speed centrifugal separation is a challenging process whether your application requires solids removal, clarification, purification, or polishing. And while centrifuge maintenance isn't always scheduled, Centrifuge World has service centers all over the country to assure quick service and the level of expertise you've come to expect from the Industries Leading Centrifuge Repair Shop. – all while minimizing downtime.
We Take Pride in Providing the Following Services:
Maintenance And Cleaning Procedures – Includes a full inspection and cleaning of the bowl, inlet/outlet, and disc stack.
Hard-Surfacing – Mechanically polish or coat disk stack or bowl surfaces, which is critical for all applications.
Welding – Restore the original state of your centrifuge frame, skid, pipework, or inlet/outlet.
Balancing – Bowl vibration is reduced, and overall separation performance is improved.
Complete Testing – Prior to return shipping, each Alfa Laval centrifuge is tested at full operating speeds.
Our factory qualified specialists inspect, clean, and replace gaskets, seals, and other genuine parts, starting with simple annual check-ups. Disk stack centrifuge reconditioning or bowl balancing, as well as bearing and gear replacement, are more thorough servicing alternatives.
Regardless of your application, Centrifuge World recommends that each high-speed separator be serviced or maintained at least once every 8,000 operating hours, or once every 12 months.
Maintaining Your Alpha Laval Centrifuge
To keep your equipment running in top operating condition, maintenance is essential. So, take advantage of our expertise, call our service engineers to help troubleshoot maintenance issues or set up an appointment for inspection.
Repairing Decanter and Disc stack Separators, Pushers & Peelers
When rotating equipment requires repair, Centrifuge World provides the following services for our decanters and disc stack separators:
Standard maintenance, when service in the field is not convenient
Welding of areas damaged due to mechanical, chemical or erosion attacks
Refitting of wear parts, such as o-rings and gaskets
Replacing worn out or damaged items
Executing upgrades
Balancing static and/or dynamic equipment based on needs and available equipment
Conducting a test run, depending on the equipment
Schedule a Tour of One of Our Repair Facilities
Capabilities – Feel free to call 1 (800) 208 6075 to schedule a tour of one of our plants or click here to contact us:
We are not the Alfa Laval OEM but we do service their products.