Peeler Centrifuge
Peeler centrifuges are batch centrifuges and usually possess perforated filtration bowls in which cloth filters are used. The liquid in the admitted suspension is centrifuged and filtered at high speeds during which the solids form on the cloth filter in the shape of filter cakes. Once they have been spun-dried, these filter cakes are scraped out on a batch basis by peeler knives inserted into the rotating bowl. The solids may be washed before removal. Peeler centrifuges may, for example, be employed to achieve maximum removal of moisture from solids which have to be as pure as possible or with suspensions that cannot be separated by their different densities.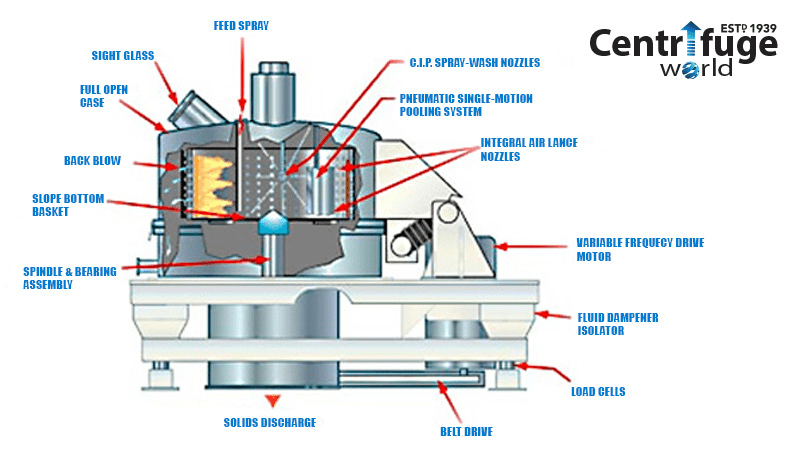 Here is How a Horizontal Basket Centrifuge Filtrates
Horizontal Basket Filtration Cycle
Feeding: The slurry is introduced to the rotating basket having a filter cloth. The filter cloth captures the solids. Centrifugal force drives the liquid through the caked solids and the mother liquor is discharged through perforations in the basket circumference.
Washing: A wash liquid is introduced and is driven through the caked solids. The plug flow action of the wash liquid purifies the solids and removes residual mother liquor.
Spinning: Residual liquors are driven from the caked solids and are discharged through the basket perforations to achieve maximum cake dryness.
Scraping: A scraper knife advances into the rotating basket to discharge the solids to downstream equipment.
Residual heel removal: After scraping, a 6-10 mm (1⁄4″ – 3⁄8″) layer remains inside the rotating basket. With the scraper in an advanced position, high pressure nitrogen or air is used to dislodge this residual heel. This step can be performed after several centrifuge cycles, or after each cycle.